We want to hear from you!
What would you like to hear more about?

Are there topics on this blog that you want to know more about?

Do you want to know more How To's (ex: social media)?

Are their questions you have?

What ever it may be please let us know...
You can email us @

ldsadoptionconnection@yahoo.com

or you can just leave a comment below:)
LDS Adoption Connection Has a new button!!!!
PLEASE POST our button on all of your amazing blogs so others can learn about this amazing resource to help them with their adoption journey or learn more about Adoption, or because you just LOVE... LDS Adoption Connection!!!
Share Our Blog Button on Your Blog!!!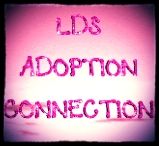 Just copy/paste this to add to your blog!